Best Fishing Days September 2023
Average reading time: 4 mins
Welcome to our comprehensive guide on the Best Fishing Days in September 2023! As avid anglers and dedicated fishing enthusiasts, we understand the excitement of planning a successful fishing trip. September brings with it a unique blend of weather conditions and aquatic activity that can make your fishing adventure truly memorable. In this article, we will delve into the details of the best fishing days, prime locations, essential tips, and techniques to make the most of your September fishing escapades.
The Science Behind the Best Fishing Days
Determining the best fishing days in September involves considering a range of factors, including moon phases, tides, and weather conditions. Fish are sensitive to these elements, and understanding their patterns can significantly increase your chances of a successful catch.
Moon Phases and Fishing
Moon phases play a crucial role in fish behavior. During a full moon or new moon, when the moon is directly aligned with the sun and Earth, fish tend to be more active and feed more aggressively. This means that planning your fishing trip around these lunar events can be incredibly advantageous.
Tides and Their Impact
Tides have a direct impact on the movement of fish, especially in coastal areas. During high tide, fish are more likely to venture closer to shorelines and feeding areas. Conversely, low tide might lead fish to retreat to deeper waters. Understanding the local tide schedule can guide you in choosing the optimal times for your fishing expedition.
Best Fishing Days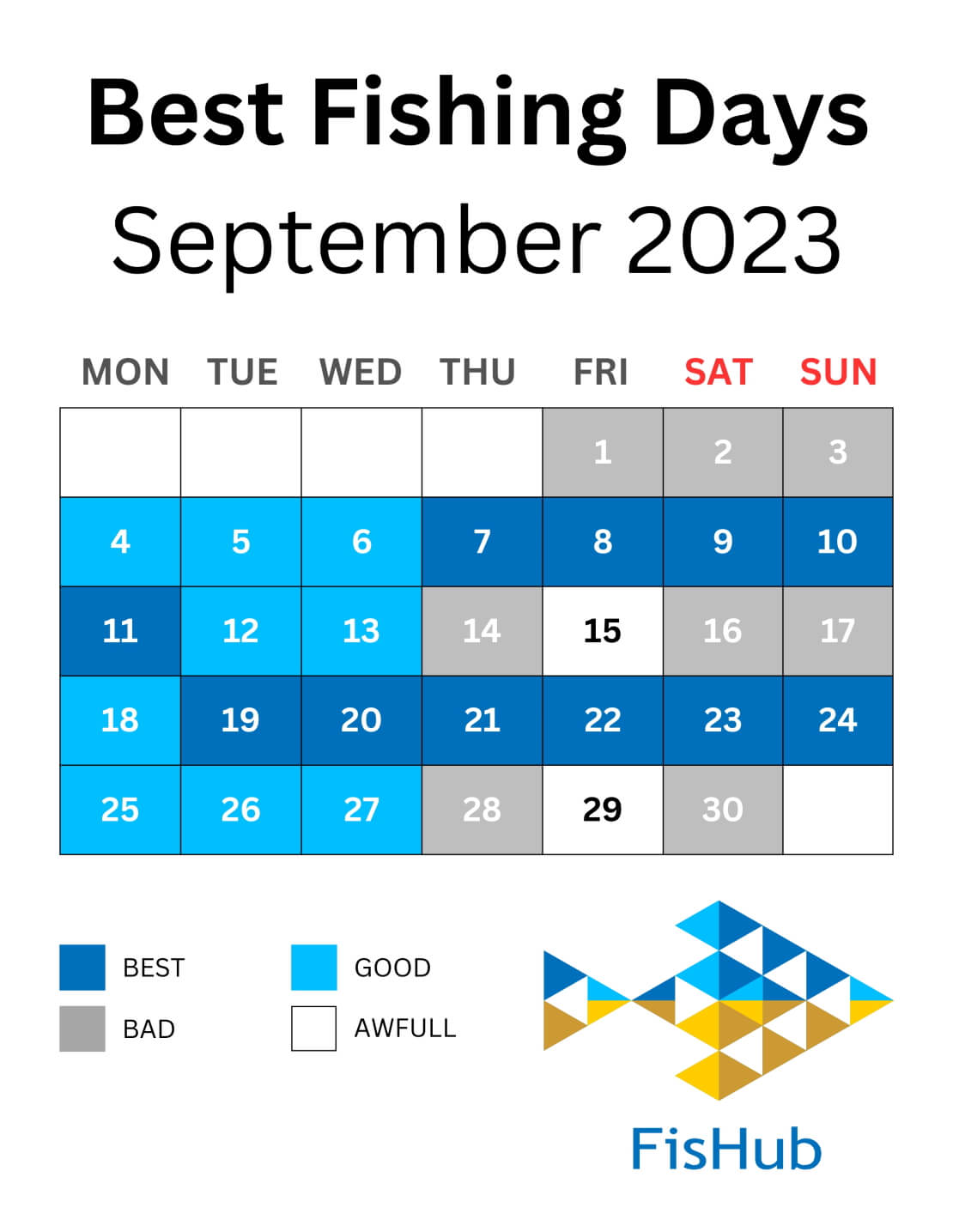 Prime Fishing Locations in September
When it comes to selecting the right fishing spot in September, consider the type of fish you're targeting and their preferred habitats. Here are some fantastic fishing locations to consider:
Freshwater Lakes and Rivers
As the temperature begins to cool, freshwater fish like bass and trout become more active. Target areas near underwater structures such as fallen trees, submerged rocks, and vegetation. These spots provide shelter and ambush points for fish.
Coastal Shores
Coastal fishing can be especially rewarding in September. Species like redfish, flounder, and snook are on the move, making their way to warmer waters. Look for estuaries, inlets, and points where these fish tend to congregate.
Deep Sea Fishing
For those who love offshore adventures, September offers opportunities to catch pelagic species like tuna, marlin, and mahi-mahi. Pay attention to offshore weather forecasts and charter a reputable fishing boat for a thrilling deep-sea experience.
Tips for a Successful September Fishing Trip
Maximize your chances of success by following these expert tips for your September fishing expedition:
Research Local Regulations
Before heading out, familiarize yourself with local fishing regulations and obtain any necessary permits. This ensures a responsible and legal fishing experience.
Pack the Right Gear
Choose your fishing gear based on the type of fish you're targeting. Make sure to include a variety of lures, bait, and tackle to adapt to changing conditions.
Stay Informed About Weather
Keep a close watch on weather forecasts leading up to your fishing trip. Sudden changes in weather can impact fish behavior and your safety on the water.
Patience and Persistence
Fishing requires patience and persistence. Be prepared to adapt your strategies and move to different spots if the fish aren't biting.
In Conclusion
September is a captivating month for fishing enthusiasts, offering a diverse range of opportunities for anglers of all levels. By understanding the science behind fish behavior, planning your fishing trips around moon phases and tides, and selecting the right fishing locations, you can enhance your chances of a successful catch. Remember to equip yourself with the right gear, stay informed about local regulations and weather conditions, and approach your fishing adventure with patience and enthusiasm.